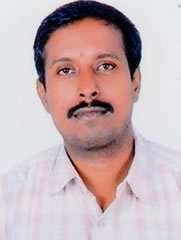 Mr.Sadasivam
Position:
Co-Founder of AQVASTAR
Sadasivam, the Co-founder of Aqvastar, was born on June 15,1972. He pursued his life-long passion for Agriculture by graduating from Agricultural Engineering College and Research Institute – Coimbatore (TNAU – Tamilnadu Agricultural University) with a degree in Bachelor of Agriculture Engineering.
He began his career as one of the youngest Irrigation Design Engineer in Irrigation Industry at PRAGTI IRRIGATION SYSTEMS PVT LTD, Nashik. Beginning in 1996, he became the youngest person to achieve the lofty position as Founder of Kaveri Irrigations. Later, he went on to become the Founder of Shiva Exports (Erode), Innovative Plumbing Solutions (Bangalore), Softscape technologies (Chennai), Sri Ganga Irrigations (Erode) all while in his 30's.
He, in his own country with a steadfast determination to "Do Irrigation the Right way." There, he planted the seed that ultimately led him to achieve the Green dream. He conquered all challenges by remaining devoted to his firm belief that "risks present opportunities."
Fuelled by his ambition to create the most reliable Irrigation company in the world, he joined with RAIN BIRD as a South Indian Authorized Distributor. This was the first successful example of a merger and acquisition deal between the Irrigation Industry in South India. The strong financial stability and high-tech Agricultural engineering techniques and passion for Green India made this transaction unique, and thus highly successful. This led him to tie up with various international brands spread across the world.
He encouraged his new employees by saying, "I will do my best to help you do your best," and, "Keep knocking when the door shuts because it will open." Inspired by his determination to boost their morale, the employees began to flow positive energy back into the company. His dedication to his people was unparalleled. He remained true to his words, demonstrating his genuine compassion by engaging in conversations with each employee. His sincere care resonated throughout the company.
Meeting every hardship with determination, he successfully became the Founder of Shiva Exports, Softscape Technologies, Kaveri Irrigations, and now for Aqvastar.